A miracle happens when the beautiful blue color Lake Biwa and pudding meet! Hikone Good Pudding, BIWAKO BLUE

Good pudding is made in a workshop in the corner of the Hikone Miyage Honjin based on the philosophy of "Sampo (three ways) good" of Omi merchants. It means there are good things for me, you, and your surroundings. This local pudding born from the desire to be so. This pudding has a rich and nostalgic taste made from locally produced milk, eggs, and mineral-rich cane sugar. On top of the pudding, there are layer of butterfly pea jelly, which has antioxidant and whitening effects, and lemon-flavored jelly layer total three layers structure.
This pudding is named BIWAKO BLUE the image of beautiful Lake Biwa.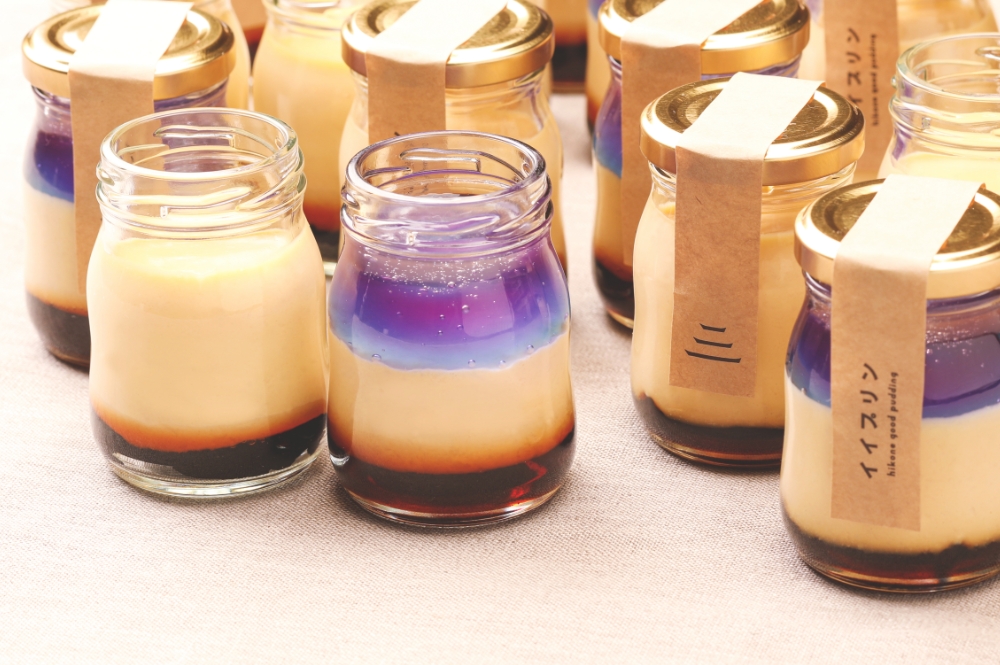 The clear and refreshing jelly has a soft and fluffy texture, which matches perfectly with the rich pudding and has a smooth texture.
"It was difficult to reach to the best balance of pudding and jelly. A series of trial and error was necessary for finding" says the store manager Hiroyuki Miwa.
Hikone Good Pudding is created by people who care about Shiga, incorporates environmentally friendly containers and deplastic spoons. BIWAKO BLUE, which is packed with commitment to many, is a miracle born from the encounter with Butterfly Pea! It is popular not only with tourists but also with locals, and it is also popular as an ordered product.