Beautiful North Lake Biwa becomes a blue color local sake!

"Biwako Nagahama Blue", a liquor inspired by the beautiful blue color of Lake Biwa, was born in 2017 as a new specialty of Nagahama. By blending the pigment of the pesticide-free cultivated blue color herb butterfly pea with Ginjo sake, we were able to bring out a clear and vivid blue color. "We have been making trials with the desire to make sake that is unique to Lake Biwa while valuing the original taste of sake. We would like to widely disseminate the charm of the region and the beauty of Lake Biwa through this sake. I believe it will lead to the conservation of Lake Biwa, "says Mr.Takashi Sato, the owner.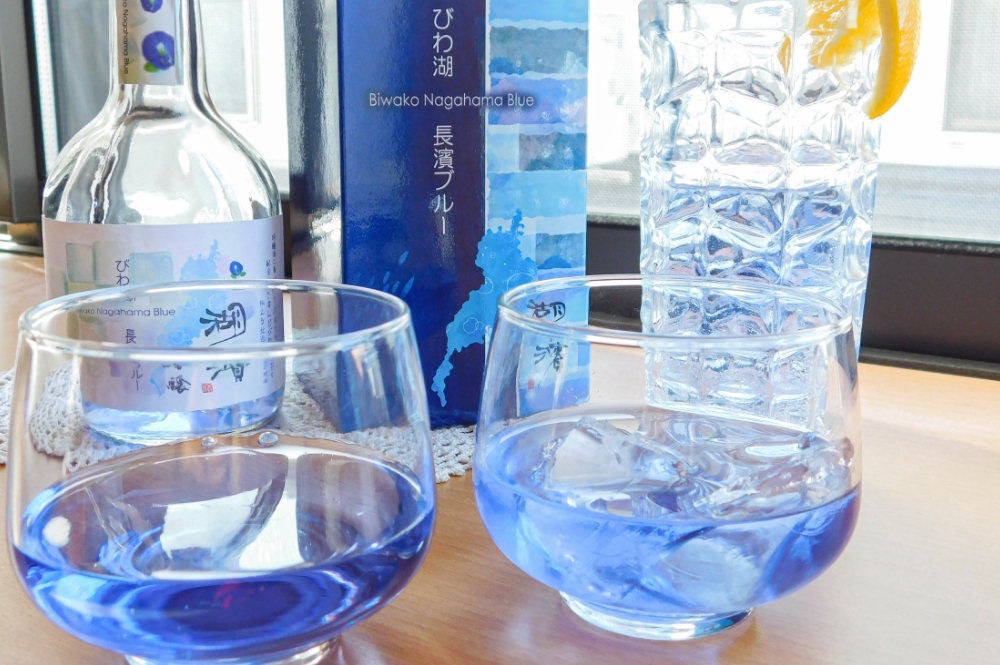 This sake is popular as a fashionable sake for generations and women who have never been familiar with sake. This sake is sharp Ginjo sake, which has a mellow scent and is soft when you put it in your mouth. Good to be chilled for rock or straight. We also recommend drinking with soda and a cocktail style called Samurai Rock which is made with squeezing lime (lemon can be used instead of lime). You can also enjoy how the blue color changes to a beautiful purple color by squeezing lime or lemon.
Please enjoy a relaxing time while thinking about the magnificent and beautiful Lake Biwa. Please check the website for restaurants and liquor stores that handle Biwako Nagahama Blue.