Accessory "Blue Michelangelo" with new possibilities of Shigaraki ware
"Blue Michelangelo" is a pottery accessory created by fusing mineral pigments which Michelangelo liked to use and Shigaraki ware. Large pottery balls with delicate cuts shine in glitter and cobalt blue, like a blue jewel. The elegance that sets it apart from traditional pottery accessories makes adult women shine.
It was created by Junko Kuzuhara, a Shigaraki pottery doll artist. Ms. Kuzuhara's challenge began with the desire to "change the image of Shigaraki ware" and "want pottery accessories that can be worn in formal occasions."
Lightweight is an important issue for wearable accessories. However, if the pottery ball is made hollow, it will be easily broken. Therefore, through trial and error with soil experts, she developed soil that is lightweight enough to float on water and that gives a beautiful color to the glaze. It took about 5 years to launch the original accessory brand "Juno".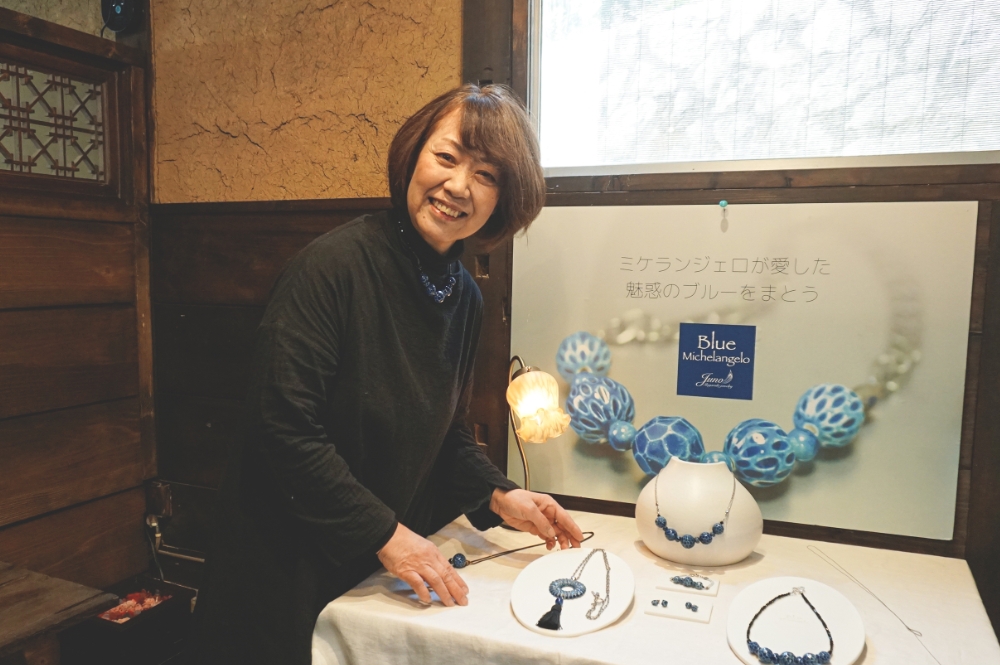 In the fall of 2018, she visited a long-established art supply store in Italy to study design and she was introduced to mineral pigments from the Renaissance era that can withstand a firing temperature of 1200 ℃. She brought back that mineral pigments and fired with glaze. Then she found a stunning cobalt blue color, like the blue sky depicted in Michelangelo's masterpiece "The Last Judgment"! The following year, when she opened a store at a craftsman's trade fair held in Florence, the fascinating blue Shigaraki accessories were highly evaluated overseas. "Blue Michelangelo" has been featured in the Japanese media and is getting more and more attention. It is a completely new Shigaraki ware born from the encounter with mineral pigments from the Renaissance era.