Enjoy sweets! with cobalt blue gelatin.

Colorless gelatin leaf is generally used, but Jereaf Inc. has succeeded in developing a beautiful cobalt blue gelatin leaf. The raw material is a plant Butterfly pea in the legume family. And this cobalt blue gelatin leaf is a tie-up product with NIHON ADVANCED AGRI Co., Ltd., who has the technology of sterilizing powder. Butterfly pea is a remarkable plant that is rich in anthocyanins and is expected to have antioxidant and anti-aging effects.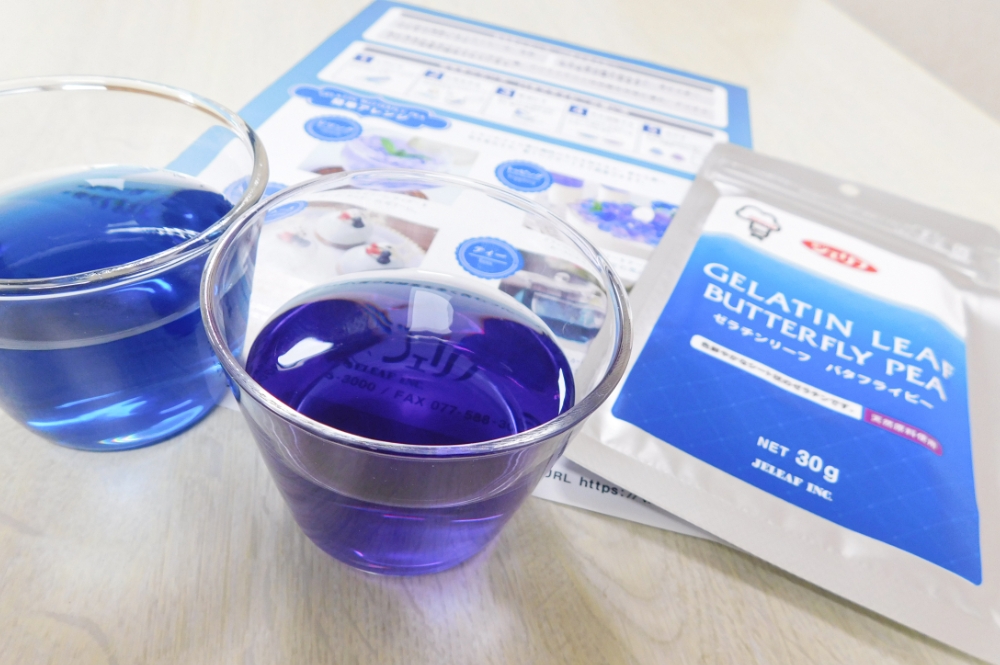 It was the first attempt to add color to gelatin leaf, and it was very difficult to commercialize it. ""We did a lot of trial and error, but finally we could bring out a clear and beautiful blue color that matched Lake Biwa. We would be happy if this gelatin leaf could convey the uniqueness of Lake Biwa to the whole country,"" said Mr. Yasumasa Akashi, the sales group leader.
If you use blue gelatin leaf, you can make beautiful cobalt blue jelly, and if you add acid such as lemon, color will be changed from blue to purple, so it will expand desert variety depending on your ideas. It can be enjoyed not only by professionals but also at home, and is recommended for making sweets with children.
This product is available to buy at Tokura Shoji Co., Ltd. (Otsu), where confectionery ingredients are handled, or at an online shop.